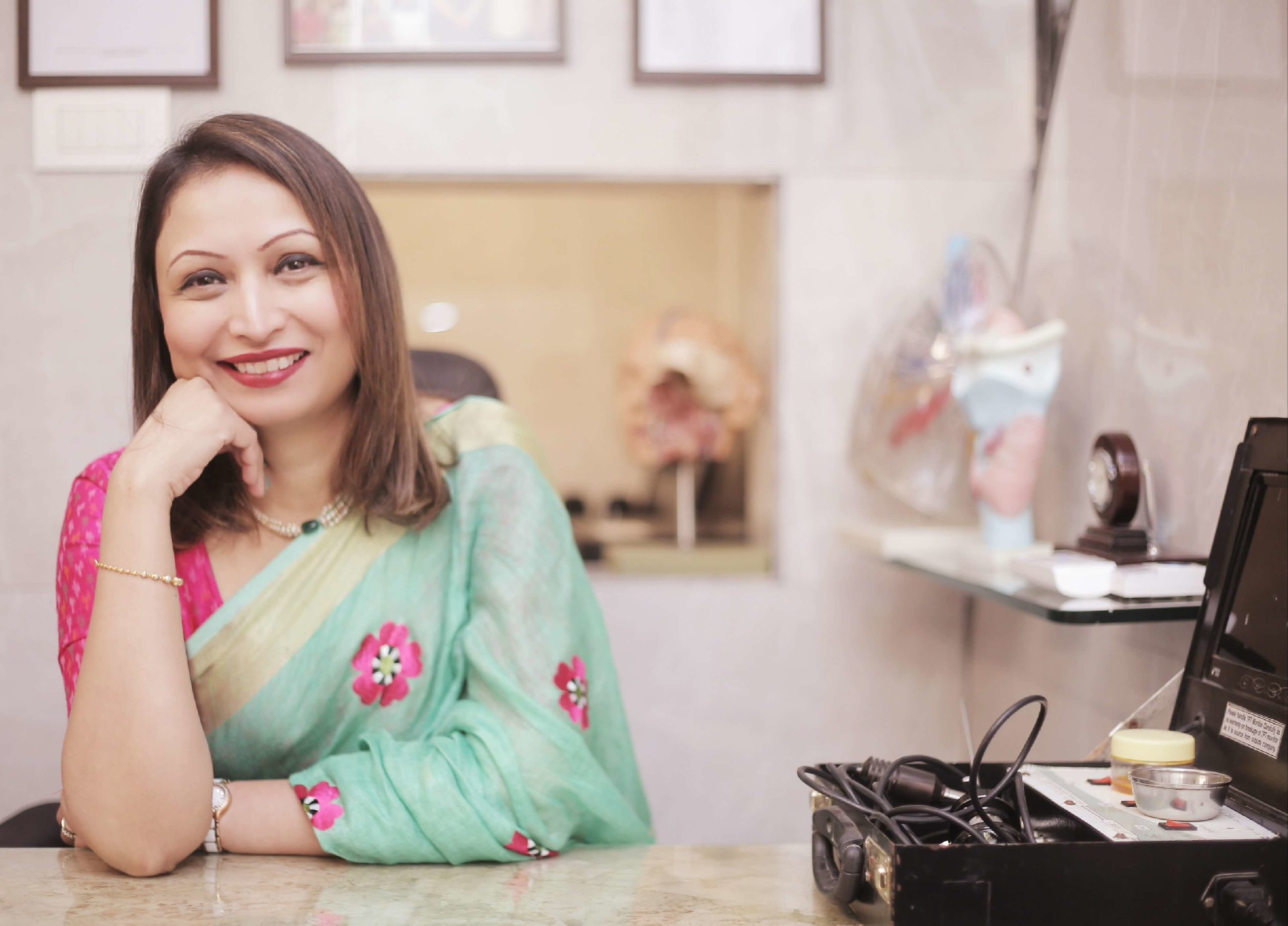 Sonali Lohar is an audiologist and speech and language pathologist. She has been practicing for more than 23 years in the field of Speech, Language ,Voice and Hearing.
Sonali has been practicing exclusively as a VOICE THERAPIST since last few years of her practice. She is among those very few top Speech Pathologists of India who have dedicated their practice for the work in the area of VOICE, Sonali's forte specifically being "Voice care for professional voice users".She has done observership in Voice Therapy at Standford University,USA and Indiana University,USA,
Her extensive work, passion and education in the field of professional Voice Disorders and Vocal Hygiene is noticed in the form of her celebrity patients , who are some of the renowned artist in the field of acting, theatrics, music and dubbing.
Her vast dedicated experience in voice Care has allowed Sonali to coin a phrase for voice problem" The Young Hassled Mothers Voice". This has become a benchmark and locally accepted term in the voice speciality field.
She has large experience in puberty related voice problems, Puberphonia, with her technique of therapy giving almost instant results in such patients.
Sex change surgery & Voice modulation: This is considered as a "Top of the pyramid" challenge for voice specialists. Sonali is actively treating and involved in such cases.
Several top politicians , including ministers, seek Sonalis' day to day guidance and therapy, especially during election time to ensure that the quality of their voice does not suffer during election campaigns.
She is a certified Specialist in Laryngectomy Rehabilitation (SLR),A certified Vitalstim Therapy Practitioner ( physio Asia Academy ) and A Voice Modulation Experts.
Vision and Hearing inform us about the outside . And VOICE is our tool to express ourselves to the outside . So ,Vision Hearing and voice , all three are necessities for rich quality of life.
In India , every year millions of professionals voice users majority of whom are teachers , suffer from Bad voice and Vocal Cord Pathologies .The sheer reason behind this is the ignorance among common public about what is known as VOCAL HYGIENE.
An excellent clinician , Sonali does an ongoing series of free workshops and lectures for teachers in schools and colleges with the sole intension of increasing awareness about voice care . Through these lecture series she has so far managed to educate thousands of teachers and singers about how to improve Vocal health and Vocal Endurance .Her mission is to reach out to each and every teaching institute of Maharashtra with this knowledge and prevent the teachers from getting Vocally Handicapped in future.
Sonali has also been invited by several corporates houses including Tech Mahindra group and Sandoz, for her Voice Workshops and lectures.
Her articles and interviews in leading newspapers and health care magazines have contributed in increasing public awareness about Voice and Voice disorders.
She has participated, presented and has been invited as a panellist and guest faculty speaker in National and International Voice Conferences, Emirates ENT & AVCD, VOICECON, Rajasthan State Conference to name a few.
Sonali is known for her humane understanding, for her insight in the Science of Voice .Her distilled wisdom coming across from her statement "The throat is the seat of emotions …One feels a chocking sensation in the throat much before the tears appear in the eyes…." This depth of voice makes Sonali a complete Voice specialist, counselling being an integral component of her trademark humane strategy for treatment.
Attachments:
1. Voice clinic , Dr Bhumkar ENT Hospital , Thane , Maharashtra
2. Juvekar,s Voice Lab , Chembur , Mumbai , Maharashtra
3. Voice Clinic , Ghaisas ENT Hospital , Pune
4. Voice consultant , Jain ENT Hospital , Jaipur , Rajasthan
5. Faculty at Uday Sabnis Voice Academy , Thane , Maharashtra
6. Member of Talent Advisory committee , Sankram Music Pvt Ltd
Attributes :
• Writer – Various articles are published in magazines and newspapers. She is also a regular column writer for leading regional newspaper of Maharashtra
• Sonali is one of the four authors of the book "Chaar Sakhya Chovis" which is already into it's 2nd edition in a record breaking period.
• Poet – Various poems are shared on various social platforms
• Anchor – Has successfully anchored various events
• Speaker – Has delivered many lectures on voice , its use and maintenance
• Entrepreneur – Her company , SRD solutions, has successfully done an big educational project in association with Thane Munciple Corporation
Social Association :
• Sonali is an active member of Thane Art Guild (TAG). TAG is a group of people who have come together from different fields of ART and who have explored and proved their skills in their respective areas
• Sonali is a group head of one of the TAG's cultural groups – " Granthgandh " ,This group was formed with the intension to promote the movement of book-reading ,to encourage writing skill and to share the good work of great authors . The group deals with types of literature in its different forms. 'Navras abhivyakti', an experimental show conceptualised and elaborated by Sonali has now been presented as "Navlayee" on professional platform .
• Granthgandh's monthly ongoing activity of a celebrity personality interviewing a renown author under "Granthgandh Tagkatta" has been a big success.
Awards :
• LOKMAT SAKHI SANMAN AWARD 2016
• AMRUTVEL SUPERWOMEN AWARD 2017
• AADARSH PRATISHTHAN SAMAJ RATNA AWARD 2018
• POWER OF WOMAN AWARD 2018
• JANEEV AWARD 2019
• KALANIDHI WOMAN OF SUBSTANCE AWARD 2019